How Discounts and Vouchers/Coupons Work for AOS Orchid Marketplace™ Partners
The AOS created the Orchid Marketplace to help bring orchid vendors and consumers together. Your participation generates a lot more visibility for your offerings.
At least once a month, the AOS promotes the Orchid Marketplace to over 100,000 orchid growers via email, social media, and nearly every page of the AOS website.
As a partner, you agree to offer a 5% discount (subject to your terms and conditions such as "Not to be combined with other offers", domestic shipping only, etc.) to AOS members which provides a special incentive for our 10,000+ members to shop with you, and we remind them every month.
VALIDATING AOS MEMBERSHIP
We make it easy for you to verify that a user is a valid AOS member.
Simply visit aos.org/member-lookup to check a member's current status.
Then enter the "Lookup Code" from their AOS membership card (this can be done in-person, over the phone, or even by postal mail.)

Alternatively, you can scan the QR code on their membership card with your smartphone (or even scan the QR code from their smartphone when they are viewing their membership card on their phone.)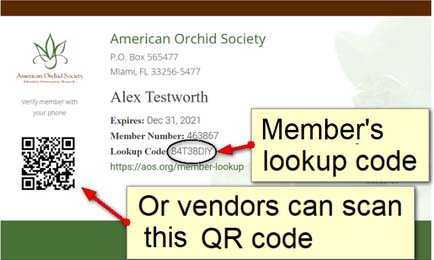 VOUCHERS/COUPONS
If you are an Orchid Marketplace Elite Vendors offer a one-time $30 discount off purchases of $100 or more to two-year AOS members (over 40% of AOS members are two year members - that's more than 4,000 potential customers!)
One Elite partner recently told us they made back their investment in the Orchid Marketplace in the first week from the orders they tracked back to the coupon usage and promotion in the Orchid DealWire.
The vouchers give you an opportunity to win a new customer who could stick with you for many years, or possibly incentivise a previous customer to shop again.
Each member is entitled to use your coupon once during their two-year membership so long as you remain an Orchid Marketplace Elite partner.
Vouchers expire annually when your Orchid Marketplace partnership is up for renewal or when the member's membership expires, whichever comes first. The voucher expiration resets once you renew your partnership and the member's membership has not yet expired, or when you both renew.
Here is how you redeem a voucher:
To redeem vouchers, you MUST be signed into the AOS website with your PARTNER account (or integrate your ecommerce site or system with the AOS tracking system - see the API tab in your AOS Partner account for more information on integrations.)
There are two ways to redeem vouchers manually:
First, you can simply scan the QR code on a voucher a member has printed or pulled up on their smartphone.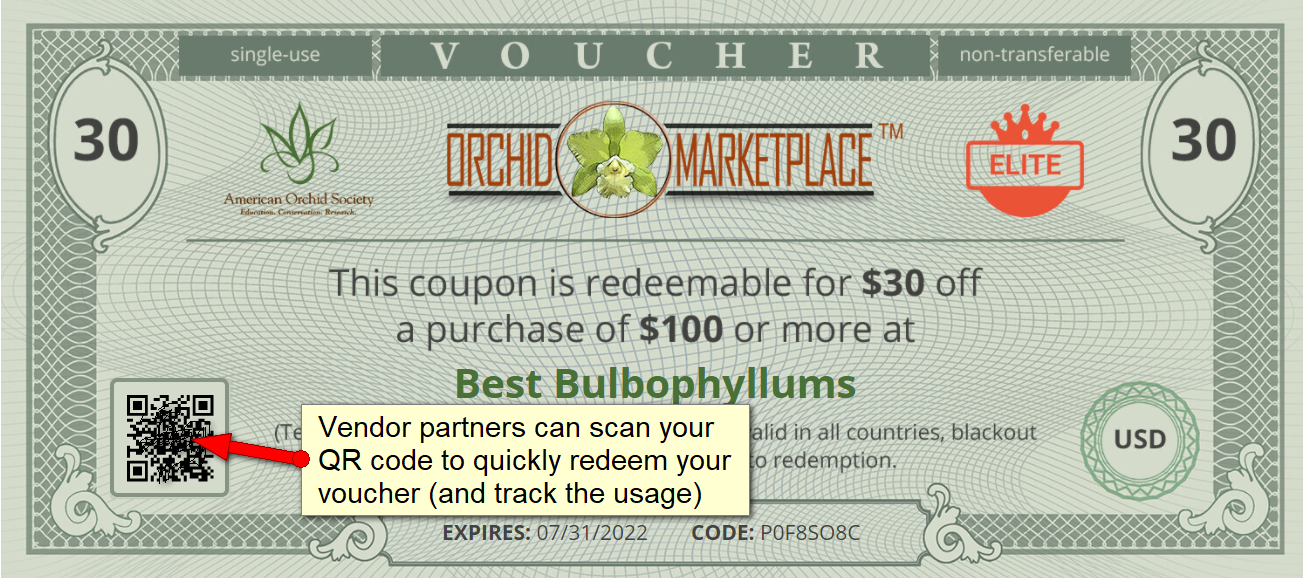 Scanning the QR Code when you are signed into your partner account will instantly track the voucher and confirm that the voucher is valid. It will also mark the coupon "REDEEMED" so the member cannot use it again.
If you scan the QR code when the voucher has been previously used, the system will show you an error message indicating the voucher was previously redeemed.
IMPORTANT: If you scan a QR code, it is marked "Redeemed" instantly. If you do not fulfil the order, or the order is cancelled. You would need to delete the usage record from your AOS partner account to give the member access to the coupon again.
Second, you can record coupon usage via your "Manage Coupon Usage" capabilities on the AOS site.
To Manage Coupon Usage (view usage history, or delete a tracking record to give a user access to their coupon again…) Simply click on the User menu when you are signed into the AOS site with your PARTNER account, and select "Manage Coupon Usage."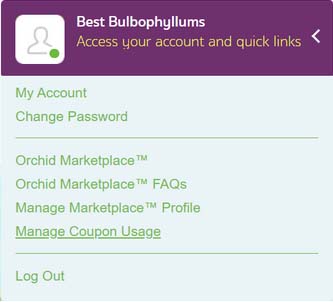 Here is what you will see when you access the coupon tracking…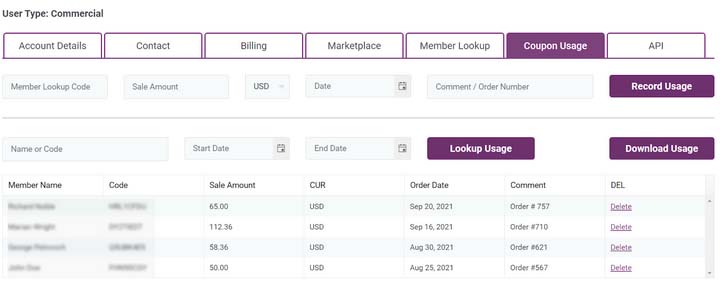 To record coupon usage (which will mark it "REDEEMED" and no longer usable by the member), simply:
Search by orchid genus, location, product, or specialty
Find your favorite vendors (or discover new ones!)
Press "Record Usage"
You will see all past coupon usage history listed in a table.
You can download the usage history with the "Download Usage" button.
You can also lookup usage by member name or lookup code, or by date range.
AUTOMATED VOUCHER/COUPON HANDLING
Using the API (Application Programming Interface), your ecommerce site or system can automatically verify member status, check coupon eligibility, and record coupon usage.
See the API tab in your Edit Profile area (when signed into your PARTNER account.) An instructions document is available in the tab. You can pass the instructions document aloong to your programmer or technology vendor.
The document will explain how to create your API credentials, and how to integrate your system with our system.